Whale Tail, Found Window With Two Intaglio Prints, 27"Wx32"Hx5"D, 2019.
Bejeweled Frame, Found Wood With Turquoise and Jaspar And Framed Intaglio Print, 35"Wx30"Hx5"D, 2019.
More Dunes. Found wood, hardwood and turquoise beads, 29Wx48Hx3, 2018.
Squidish. Sculpture using found wood and metal with turquoise beads and wood burning. 30"x12"x6"D 2018.
Remaining Red 2, 2016 16"W x 13"H x 4"D Found Wood
Remaining Red. Deteriorated wood and metal with bead. 2016. 16"W x 13"H x 5"D.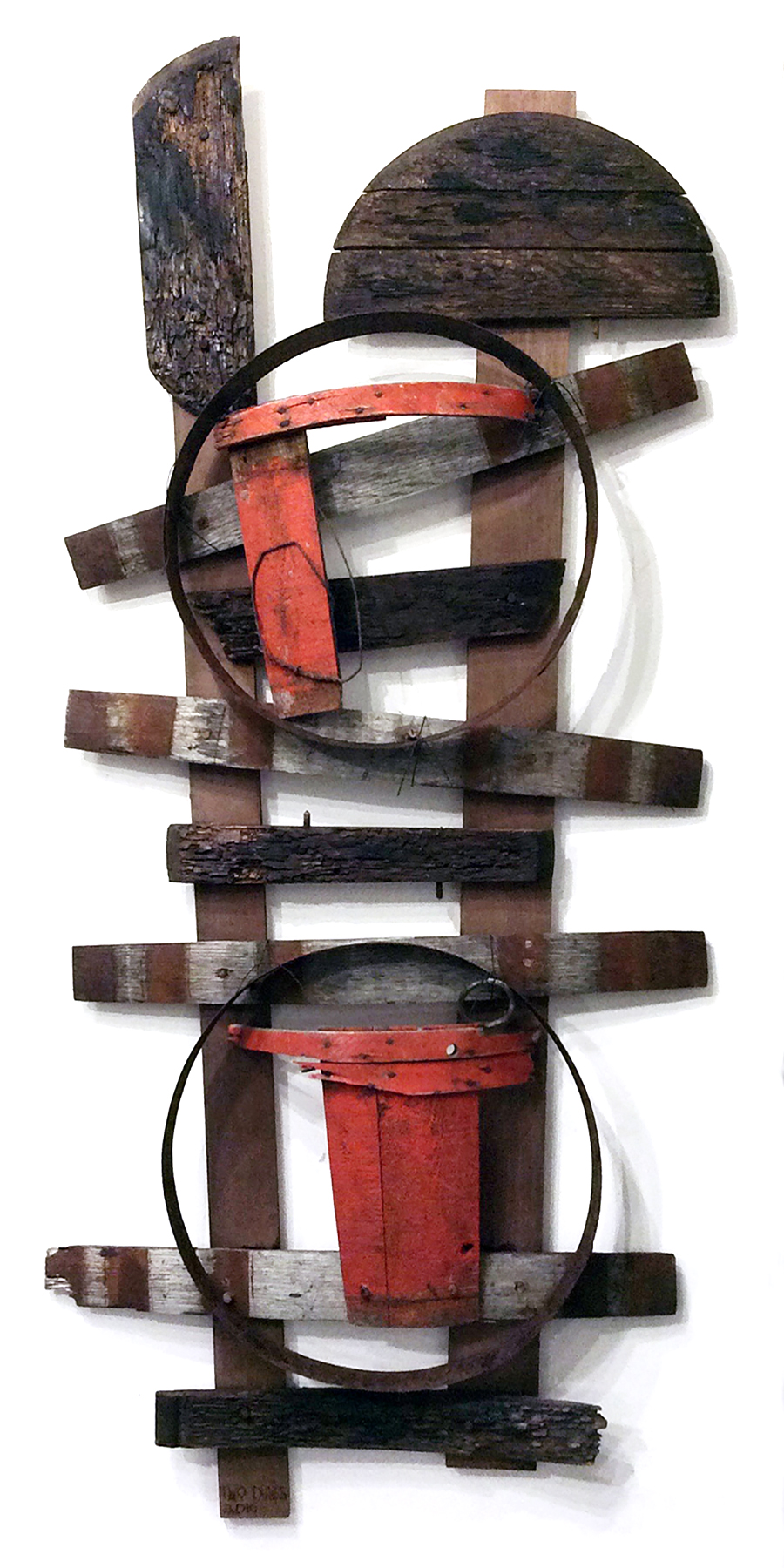 Two Dunes. Constructed from deteriorated bucket staves and bottoms as well as red basket parts, 30"W x 65"H x 5"D, 2016.
From My Truro Garden. Part of the "Totem" series. 2015. 25"W x88'H x 4"D.
From My Truro Garden. 2014 installation of five "Totems" each titled From My Truro Garden. 20"W X 10'Hx 8"D.
Lobster Cup. Detail of a wall sculpture, 2015.
Lobster Cup. Deteriorated wood, beads and encaustic on cloth. 2015. 32"W X 48"H x 10"D.
Raspberry Jelly. From a raspberry jelly wooden bucket, rearranged on an encaustic surface with cord and beads added and mounted in an old oak frame. 2014. 16"W X13"H x 2"D.
Japanerie. A wood bottom of a cheese maker is central in a construction of wood staves and deteriorated metal rings. Mounted on a brown covered tondo. 2013. 19" tondo x 6"D.
Crochet. Cloth, wood and metal. 2009. 20"w X18"H x 5"D.